Exam Results and Information
---
At Prince Henry's, we are very proud of the results our students achieve. Information on our external results can be seen at the foot of this page.
Exam Results
The following summary is the message from our Headteacher, Janet Sheriff, released on the results days.
Prince Henry's Grammar School A Level Results 2018
"Our sixth form students have achieved some excellent results once again - I am incredibly proud of their performance. The vast majority have secured a place at their chosen university, apprenticeship or workplace. I wish all of them the very best for their next steps."
The overall pass rate has increased to 99.5% and the percentage A* - B grades has increased to 57.3% with an impressive proportion (28%) of all grades being A or A*. This high attainment is evident in the more academic subjects such as the Sciences, Maths and English as well as in vocational subjects such as Business, Health and Social Care and Sport Studies, where there was a high proportion of Double Distinction* grades. Teachers at Prince Henry's have worked particularly hard this year to prepare students for the additional challenge of new courses and examination structures and they are rightly proud of how well our students have performed.
There are some amazing individual successes across the full range of academic achievement: at the top end, a number of students gained straight A or A* grades. Timothy Frankland achieved an A* in each of his subjects (Maths, Physics and Further Maths). He has secured a place to study Mathematics at Durham University. Max Collins was awarded four A levels at A*, A*, A and A (Maths, Physics, Chemistry and Further Maths) and he will go on to study Mechanical Engineering at Imperial College. Jess Mustow achieved two A* grades and an A grade (Biology, Spanish and Chemistry) to secure her place to study Medicine at Bristol University. A number of other students achieved the top grades they needed to study Medicine, including Iqra Shahid (University College London), Jody Cook (University of Leeds) and Lauren Thornley (Imperial College). Jessica Hemsley secured a place to study PPE at Oxford University.
There were top achievers in our vocational programmes too: Kate Hodsman and Harry Grimes both achieved a Double Distinction* in Sport. Katie Andrews and Lauren Rawse both secured a Double Distinction* in Health and Social Care. In Business, both Benjamin Hall and Elliot Walker achieved a Double Distinction*.
"The continued improvement in standards at Prince Henry's is due to our team of talented and dedicated staff and the hard work and commitment of our amazing students. Well done to all!"
Prince Henry's Grammar School GCSE Results 2018
Despite increased challenge in many GCSE exams and a different grading system, students at Prince Henry's have once again produced an impressive set of results. There was potential for significant turbulence in results but it appears that teachers and students have risen to the challenge and have even managed to improve on the usual high levels of achievement. We are very pleased that 78% of our students secured a pass in both English and Maths (higher than previous years) and an impressive number achieved top grades across a range of subjects, including the much sought after grade 9 (equivalent to an A*+). In addition, the analysis of examination results suggests that Prince Henry's students of all ability levels have made very good progress whilst at our school.
There are some amazing individual successes with an impressive number of students securing the equivalent of a grade A, A* or A*+ (grade 7, 8 or 9) in all of their GCSEs. There are too many to mention here, but of special note are Laura McPherson (seven grade 8s and three grade 9s), Maurice Baldwin (five grade 9s, three grade 8s and two grade 7s), Johannes Kotzee (seven grade 9s, two grade 8s and an A*), Oliver Merry (six grade 9s and five grade 8s) and Beth Liddicott (eight grade 9s and two grade 8s).
The majority of Prince Henry's Year 11 students will continue studying in our on site Sixth Form.
"I am extremely proud of all of our Year 11 students and staff - they have worked together to secure these great results. Students at Prince Henry's show real enjoyment and dedication to their learning and this, together with the expert teaching, guidance and support from our dedicated staff, means that very many students have exceeded expectations. Personally, it is really pleasing to see so many students achieve the grades they need to progress to the next stage of their learning. My congratulations go to all our students, together with my thanks to both staff and students for their hard work."
Janet Sheriff
Headteacher
Destinations
Year 11 Student Destinations – staying in education or going into employment
School = 98% (National 94%)
Year 13 Student Destinations – staying in education or going into employment for at least 2 terms after 16-18 study
GCSE Grade Information
For more information on the change to grades 9-1 at GCSE please visit the following website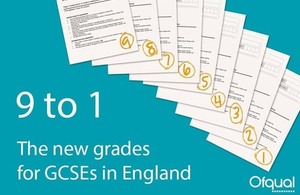 www.gov.uk
Starting in 2017 with English and Maths, GCSEs in England are graded from 9 to 1, with 9 being the top grade. Students taking GCSEs in England this summer ...
Published Results
The full Department for Education performance tables can be viewed here.
Exam Information for Summer 2019
Exams Booklet Summer 2019 - all the information you need, if you are sitting national exams this Summer. Policies referring to exams (referenced in the exams information booklet) can be found on the website in School Information/School policies.
Please find below information to support you after collecting your examination results.
Post Results Information A Level – Review of Marking, Access to Scripts
Post Results Information GCSE – Review of Marking, Access to Scripts
Exam Certificate Information – collecting your certificates
ROM Form – to request a review of marking
ATS Form – to request access to your exam script
Please return all forms to the Exams Office as soon as possible.
Exam Results by Subject
Please use the links below to view a detailed summary of exam results by subject.